1
« on: December 02, 2023, 12:16:54 am »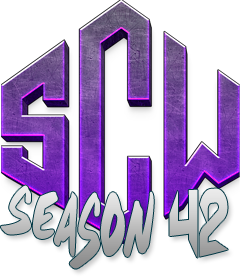 It is with great excitement and anticipation that we announce the commencement of SCW Season 42! Brace yourselves for an epic journey filled with intense battles, strategic maneuvers, and unforgettable moments. This season promises to be a spectacular one, starting tomorrow,
December 2
, and concluding on
January 14th 23:59 EST
, 2024. Let's make it a gaming experience to remember as we welcome the new year with unparalleled enthusiasm!
CONGRATULATIONS TO SCW 41 CHAMPION
:

LeGenD]HyDrA
In an electrifying display of skill and dominance,
LeGenD]HyDrA
has etched his name in the annals of SCW history by clinching the championship title for Season 41! With an unparalleled record of 52 wins and only 1 defeat, HyDrA has left spectators in awe and rivals in his wake.
LeGenD] TAKES THE 2VS2 LEAGUE ONCE AGAIN!
A monumental shout-out to the dynamic duo,

LeGenD]HyDrA
&

LeGenD]hoKe
, for dominating the 2vs2 League and securing the top spot in Season 41 standings. Their synergy, strategic brilliance, and unyielding teamwork have once again proven LeGenD] as a force to be reckoned with. Let the celebration begin for this remarkable achievement!
As we embark on SCW Season 42, we encourage all warriors to bring their A-game, forge new alliances, and create unforgettable moments on the battlefield. May this season be filled with triumphs, challenges, and, above all, the spirit of camaraderie that makes the StarCraft community truly legendary.
- Please don't forget to
download SCW42
map to report your league matches & sign up ! link below:
https://www.starcraftworld.net/index.php?action=league&mode=joinleague
-
Friendly reminder to read the league rules please:
https://www.starcraftworld.net/index.php?action=league&mode=rules
Best of luck to all participants, and may the best warriors emerge victorious.
Let the games begin!